Scottish Context
Scottish Education

Scotland's education system is an inclusive one and is designed to make sure that every child and young person is entitled to support to enable them to gain as much as possible from the opportunities which Curriculum for Excellence can provide.
As we consider the educational provision for learners with dyslexia in Scotland, it is important to acknowledge and consider the national agenda, legislative and guidance context within which local authorities, teachers and other educators work. The graphic below provides you with an overview of the Scottish education and equality context.
Select here to download a graphic which provides further details on the Scottish education legislative and policy framework.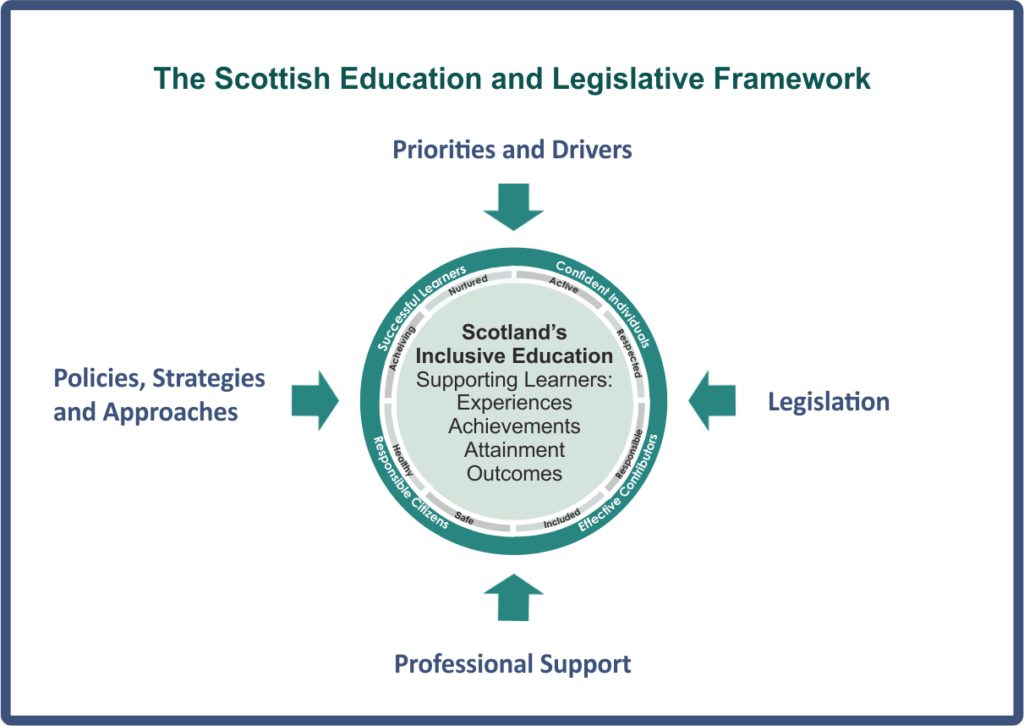 Scotland has a wide range of legislation to support inclusion and equality in education.
These promote a child centred approach to encourage every child to reach their 'fullest potential'. Our legislation ensures rights and entitlements for children and young people to education, support and wellbeing. There is a range of legislation and educational policies which place duties and expectations on schools and local authorities to ensure that they:
Deliver an inclusive education
Support learners to achieve to the best of their ability
Do not discriminate against those with protected characteristics
Provide assessments when requested
Children's rights and entitlements are fundamental to Scotland's approach to inclusive education. It is supported by the legislative framework and key policy drivers including, Curriculum for Excellence, the Getting it right for every child approach and the Framework for Professional Standards for Teachers. These are underpinned by a set of values aligned to social justice and commitment to inclusive education.
Select here to download an overview of Scottish legislation and guidance

Curriculum for Excellence

Curriculum for Excellence is the framework for Scottish education. It is designed to achieve a transformation in education in Scotland by providing a coherent, more flexible and enriched curriculum from 3 to 18.
Curriculum for Excellence is intended to help children and young people gain the knowledge, skills and attributes needed for life in the 21st century, including skills for learning, life and work.
Its purpose is often summed up as helping children and young people to become:
Successful learners
Confident individuals
Responsible citizens
Effective contributors.
These are referred to as the four capacities.
What is the curriculum and what does it include?

The term curriculum is understood to mean everything that is planned for children and young people throughout their education, not just what happens in the classroom.
Curriculum for Excellence includes four contexts for learning:
Curriculum areas and subjects
Interdisciplinary learning
Ethos and life of the school
Opportunities for personal achievement.

Curriculum for Excellence Levels and stages

The curriculum has two stages: the broad general education (from the early years to the end of S3) and the senior phase (S4 to S6).
The broad general education has five levels (early, first, second, third and fourth). The senior phase is designed to build on the experiences and outcomes of the broad general education, and to allow young people to take qualifications and courses that suit their abilities and interests.
The path most children and young people are expected to follow through the levels reflects the stages of maturation of children and young people and the changing ways in which they engage with learning as they develop.
Some children and young people will start learning at these levels earlier and others later, depending upon individual needs and aptitudes. The framework is however designed to be flexible in order to permit careful planning for those with additional support needs, including those who, for example, have a learning difficulty and those who are particularly high attaining.
CfE Level
Stage
Early
The final two years of early learning and childcare before a child goes to school and P1, or later for some.
First
To the end of P4, but earlier or later for some.
Second
To the end of P7, but earlier or later for some.
Third and Fourth
S1 to S3, but earlier or later for some. The Fourth Level broadly equates to Scottish Credit and Qualifications Framework level 4.
The Fourth Level experiences and outcomes are intended to provide possibilities for choice and young people's programmes will not include all of the Fourth Level outcomes.
Senior Phase
S4 to S6, and college or other means of study.
Click on the following link for more information about the levels.